ABOUT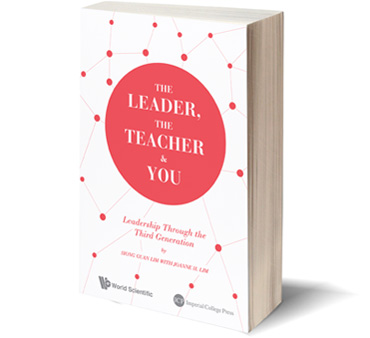 "The Leader, The Teacher & You" is for anyone who wants to positively influence others around them. You could be a CEO of a multi-national corporation, a stay-at-home mother, an emergency room nurse, or a secondary school student. We all have different innate capabilities but each of us can be a leader in our own sphere, at our own level, and in our own right
Part biography, part commentary, and part exposition, this book is a study on everyday values-based leadership based on the principles and experiences of Siong Guan Lim, a former Head of the Singapore Civil Service and incumbent Group President of GIC Private Limited.
It provides principles for everyday living and puts forth a fresh new take on the notion of leadership as being others-centred so that we can all be the best that we can be!
This book is written in two parts. A "challenge" is also included at the end of every chapter for the reader to incorporate in his or her personal and professional life.
In the first part of the book, "The Teacher," Siong Guan shares the lessons that he has learned from various teachers in his life and through varied experiences in life.
The second part of the book, "The Leader," details Siong Guan's thoughts on leadership within a framework of principles and ideas, and discusses how culture and values build sustainable success for organisations.
The final section, "The Leader, The Teacher," posits that the highest aspiration of the leader is to be a true teacher. The teacher rejoices when the student realises his or her full potential; indeed, the more the student exceeds the teacher, the greater we could consider the success of the teacher to be!